1 / 8
2 / 8
3 / 8
4 / 8
5 / 8
6 / 8
7 / 8
8 / 8
Lit the Light
4.32 (148)
Chennai, Tamil Nadu
Causes we care about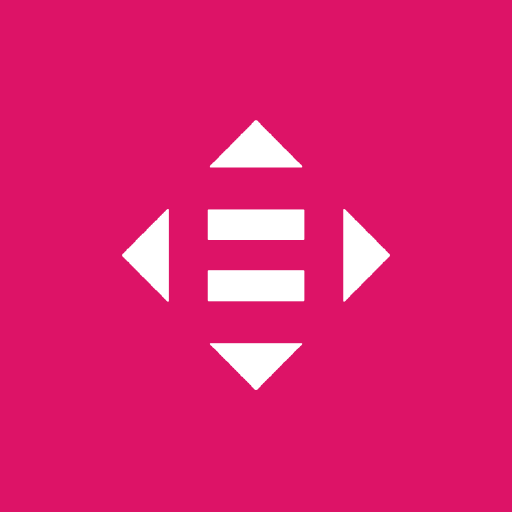 Reduced Inequalities
Reduce Inequality within and among countries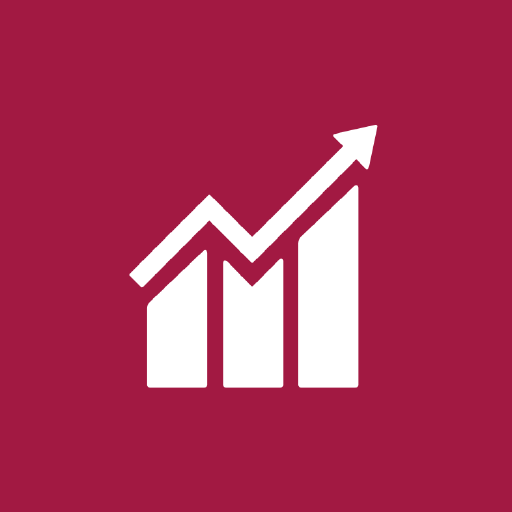 Decent work and Economic Growth
Promote sustained, incluside and sustainable economic growth, full and productive employment and decent work for all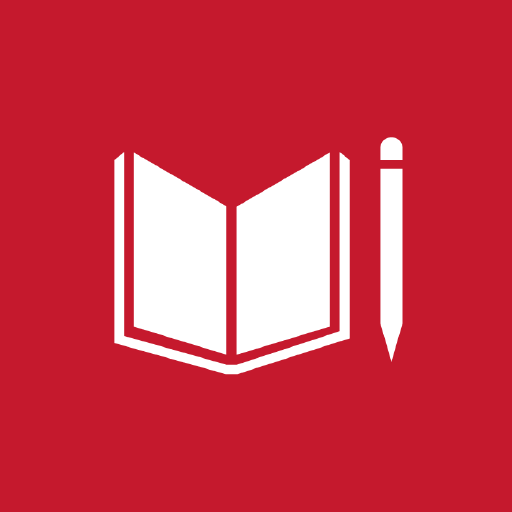 Quality Education
Ensure inclusive and equitable quality education and promote lifelong learning opportunities for all
Pictures and Videos
Why volunteer here?
This is a reliable NGO
You can get certificate recognitions and internship opportunities
Dedicated volunteers who can assist in career placements
Active Donations
Why your help matters
Your support is much appreciated
Your funds saves lives of under-privileged visually challenged
Awareness is the most important thing and you are being a part of more than just a revolution
4.32 (148 Reviews)
Sajith Madhav
3 years ago
No contact detail provided. When reached venue there was no requirement for a scribe.. finally did reading for 3 students.. please update the activity with contact person details..
STA LovER of nATurE
3 years ago
Nothing else with grassroot. Everything was fine but please make arrangements for students to do their exams along
Suganya Gandhi
3 years ago
Written for B .A history I st year student EVE paper . Thanks for the oppurtunity
Recent Press Coverage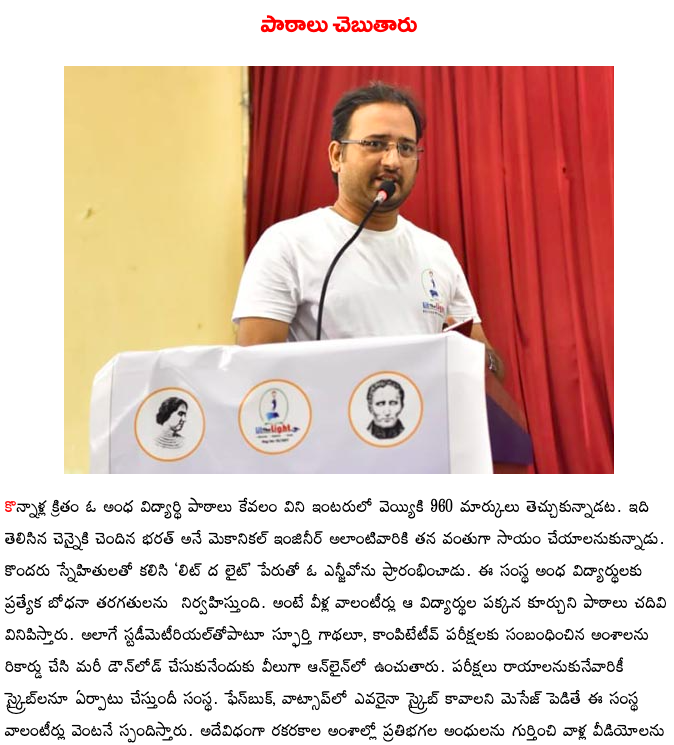 2 Aug, 2020
Eenadu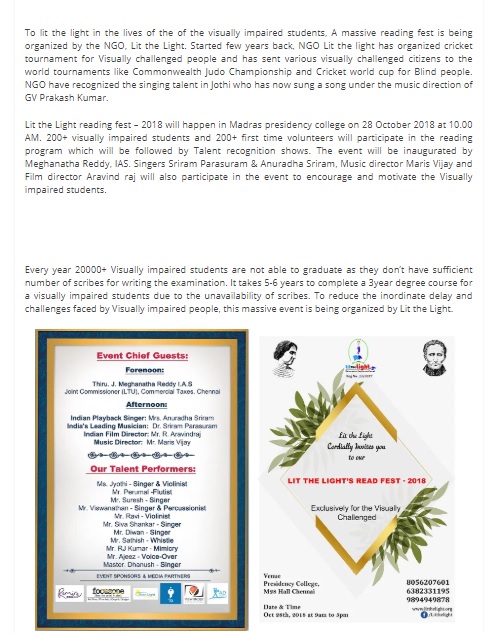 Massive reading campaign for visually challenged
4 Nov, 2018
Adambakkam times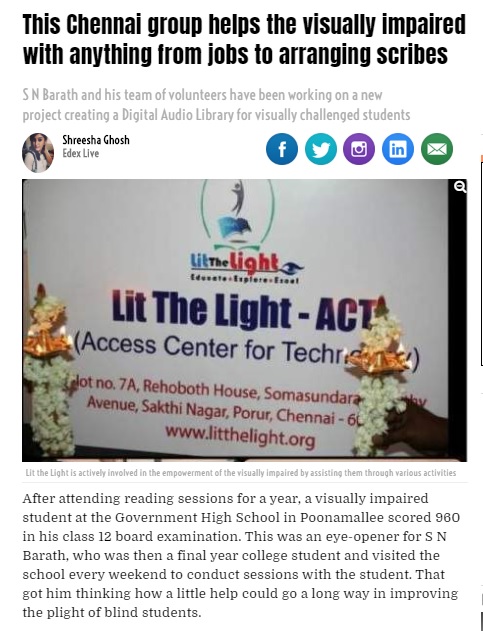 This Chennai group helps the visually impaired with anything...
25 Aug, 2018
The new Indian express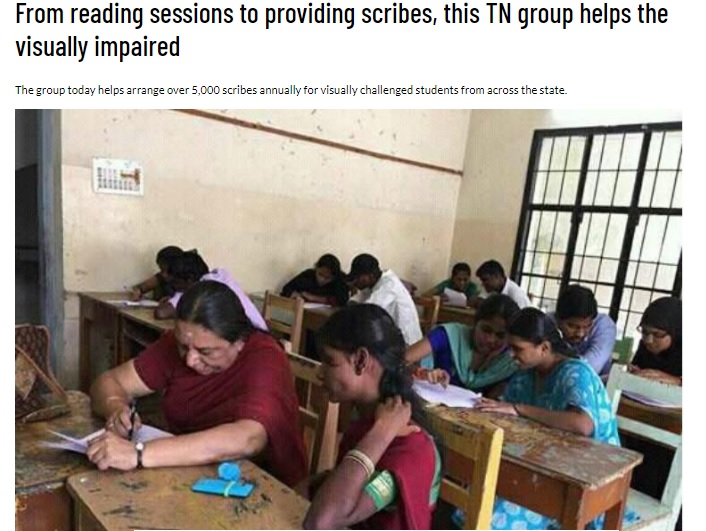 From reading sessions to providing scribes, this TN group he...
25 Jul, 2018
The news minute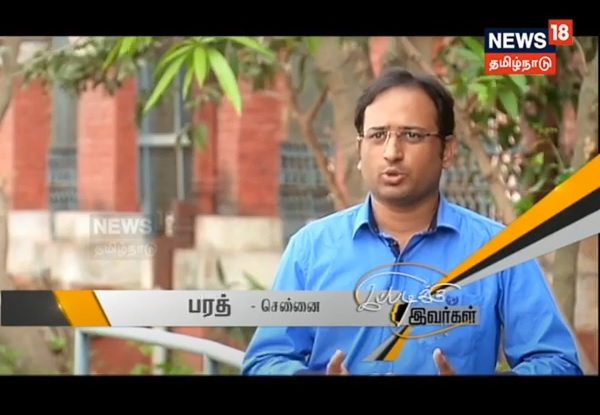 18 Apr, 2018
News18 Tamil Nadu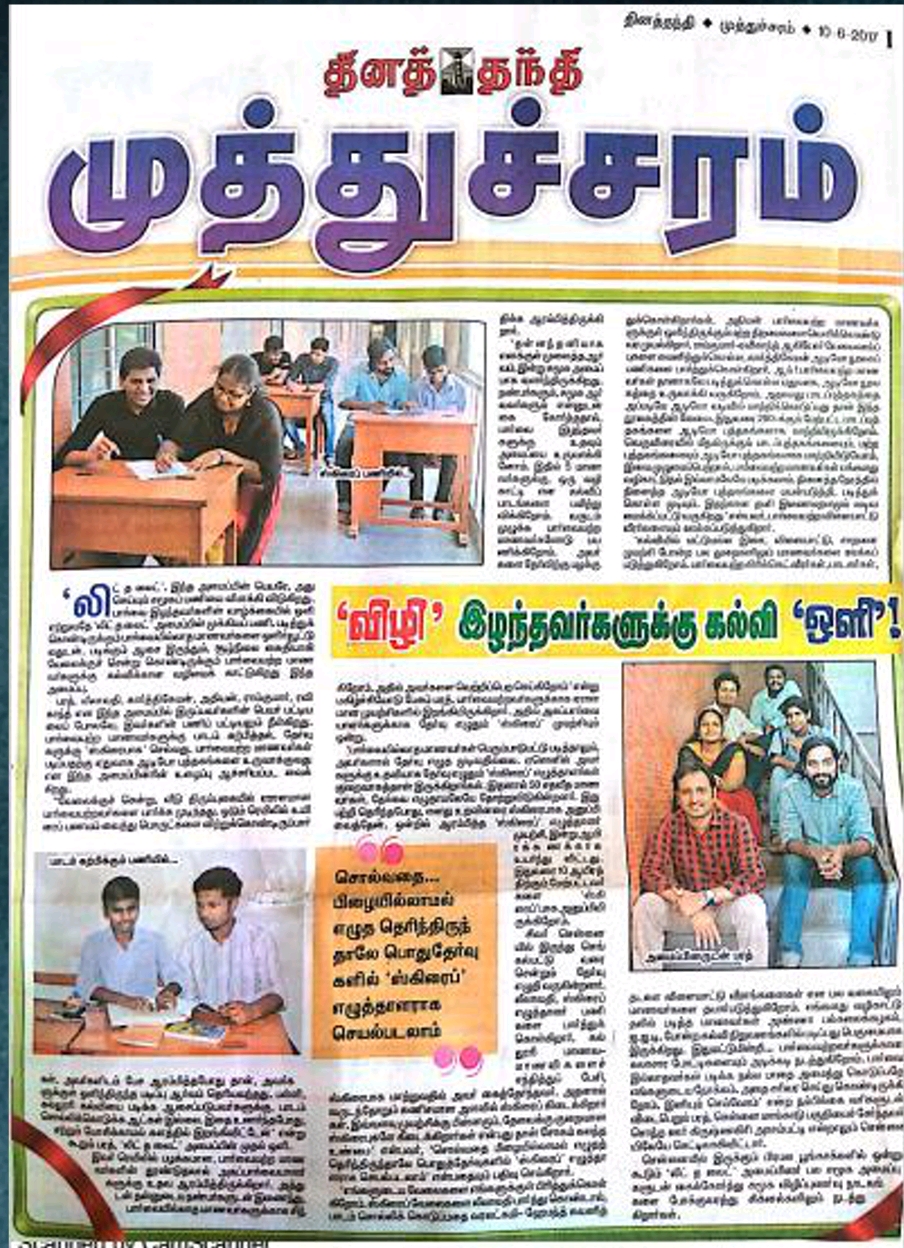 விழி இழந்தவர்களுக்கு கல்வி 'ஒளி'
10 Jun, 2017
Dinathanthi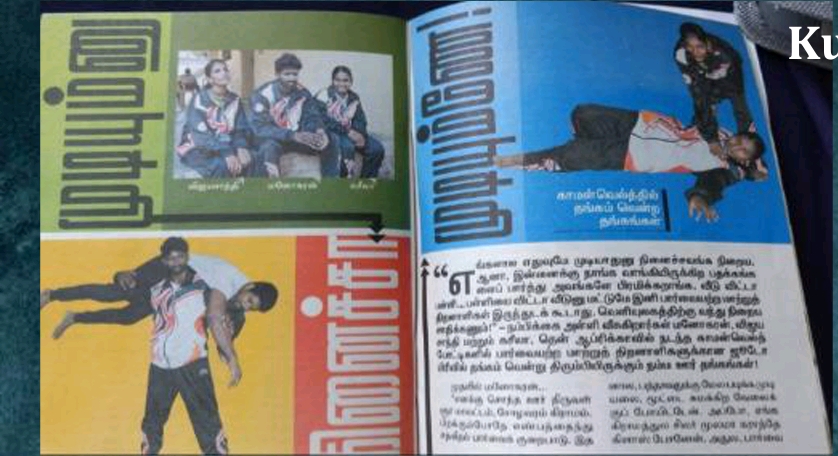 முடியும்னு நினைச்சா முடியும்ணே!
9 May, 2016
Kungumam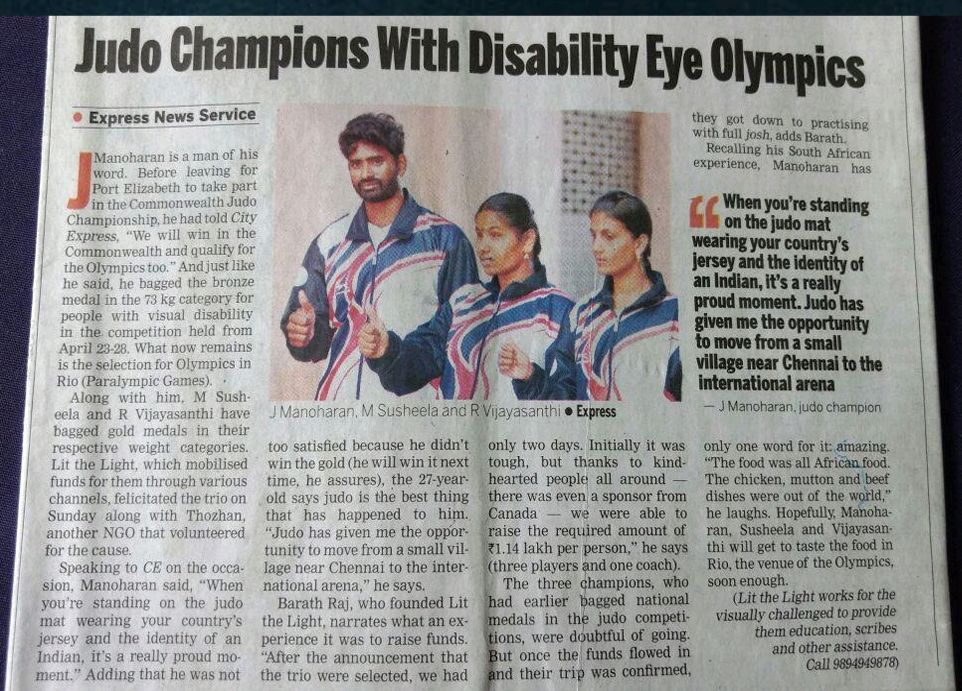 judo champions with disability eye Olympics
2 May, 2016
The new Indian express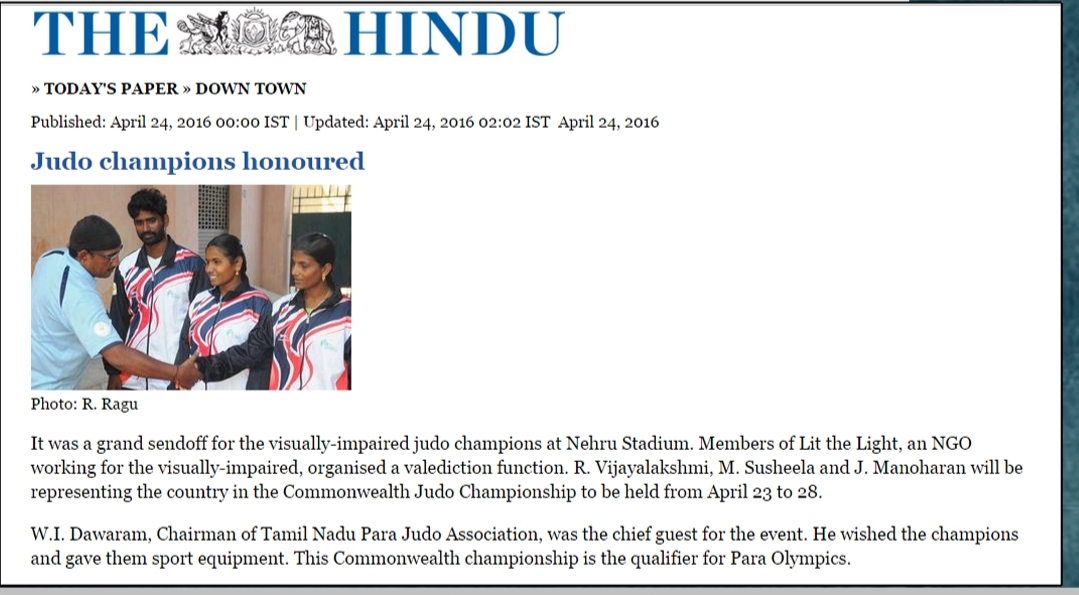 24 Apr, 2016
The Hindu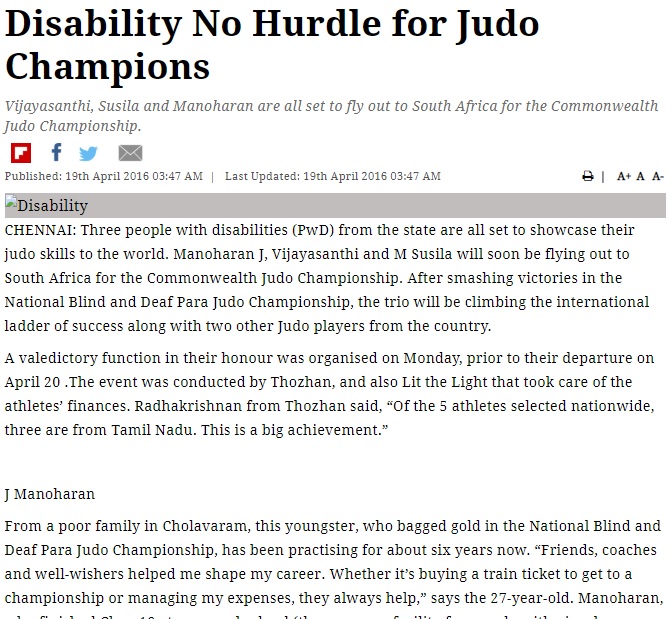 Disability no hurdle for judo champions
19 Apr, 2016
The new Indian express
Location
Plot No. 7A Rehoboth House, Somasundura Moorthy Avenue, Shakthi Nagar, Porur, Chennai, 600116.
Contact
More about Lit the Light
0 Lives Impacted
568 Volunteering Events
0 Total Fundraising Campaigns
37 Total Volunteers
"Lit The Light" is a voluntary services group which supports Visually Impaired students by helping them in their academics, extracurricular activities, job placements and overall growth. It was the vision of a single person, S.N. Barath, that sparked this endeavor. After attending reading sessions for a year, a visually impaired student of Government High School in Poonamalle scored 960 in his class 12 board examination. This was an eye-opener for Barath.He now realised that a little help could go a long way in helping such students. In 2012, along with a few of his colleagues Ram Kumar, Ravikant, Adhiyan and Sakthivel, he began this journey of Social Service. Lit the Light started functioning from 26th Jan 2012. We are entirely a volunteer based service organization which is operating in India (Chennai, Coimbatore, Madurai, Vellore, Erode, Karur, Cuddalore and Salem), USA, UK, Bahrain & Gulf countries.
Vision
Services for Visually challenged
Mission
Conducting reading sessions.Recording study materials.Arranging scribes.Discovering hidden talents.Job assistance.
Projects
Job Assistance
"Getting employment is a primary issue for the Visually challenged . We have successfully placed 25 visually impaired candidates in different organisations. This year we will be making a batch of 1520 final year students and provide them Communication and Soft skills training which is a must for every student in today's world to get hired. Currently we have started this in Chennai only. Professional trainers voluntarily spare their time for this and train the students. We also have a team that connects with the HRs of different companies to get Job Opportunities for Students. Goal: To establish Training centres, train students with the skills to make them employable and provide job opportunities."
Awareness Campaign
"On regular basis Lit the Light participates in different Awareness Campaign all over Chennai and volunteers for different event organised by other NGO's. The different Campaign Lit the Light participated are: Traffic Awareness Very month last Sunday. Beach Cleanup Activity. Volunteering for District Level Volleyball Competition. Goal: Work with all the NGO's hand in hand and contribute in Making a better society to Live In."
Talent Search
"Visually Impaired students have different talents like singing, playing musical instruments, dancing etc. and some partial sighted students are good at sketching and drawing as well. We have a dedicated team which takes care of unearthing these talents in them. We make a video of those students and share it on social media and try to get recognition for their talents. We had conducted a Chennai district level cricket tournament (Blindfold Cricket Tournament2014) for visually impaired. We have also organized many other sporting events for them like Volleyball, Athletics etc. Goal: To find the Hidden Talents in students and provide them a platform to showcase their talents to the world thereby opening doors of opportunity for them."
Recording
"We are currently working on the project of creating a Digital Audio Library for VC students. Books will be recorded in 3 categories i.e. Academic Books, General Books (Motivational, General Knowledge, etc.) and Competitive Exam Books. These audio books will be made available online so that any student can download it at any time and use it. Currently we have about 200 volunteers, just for Recording Books. Currently we have about 200 volunteers, just for Recording Books. Goal: To Create a Digital Audio Library, State wise and make it available for students everywhere."
Reading
"Currently reading sessions are conducted by Lit the Light at 3 places in Chennai Poonamallee Government Blind School, ICAT Design Centre-Mylapore and NIVH- Poonamallee. We have a dedicated group of volunteers exclusively for weekend Reading Sessions. In the next academic year 2016-17, we commence the Reading sessions at Poonamallee Gov. Blind School, Chennai from 5th to 12th STD. Goal: To have Reading centres for Visually challenged (VC) students in every state and city of India. Every city should have a dedicated group of volunteers taking care of Reading Sessions in their city."
Scribes
"Every Visually Challenged(VC) student needs a scribe to write an exam for him/her. There are a lot of requests that come to us on a daily basis for scribe requirements. We have volunteers that arrange for scribes by posting the requirements on social media like WhatsApp and Facebook. We arrange scribes in the locations, Chennai, Coimbatore, Madurai and Erode. In Chennai we are arranging for scribes in nearly 30 Colleges. In the past 2 years we have arranged for more than 2000 Scribes for different exams. We have a dedicated team that arranges for scribes in each city. Goal: To form a strong network of scribes all over India, so that we will be able to fulfill the scribe requirement for any student, from any place."
Team
Bharath SN
Founder
Ramkumar
Co-Founder
Ravi
Co-Founder
Accounts and Transparency
... Coming soon ...
Report this NGO
Links
Cities
About Us
A

"Grassroots movement"

is a movement that develops organically at a local level, by a group of people who feel strongly enough about an issue to actively campaign to make a difference.

Build version: 1.0.0-03 - live