1 / 2
2 / 2
Ooruni Foundation
0.00 (0)
Chennai, Tamil Nadu
Causes we care about
Pictures and Videos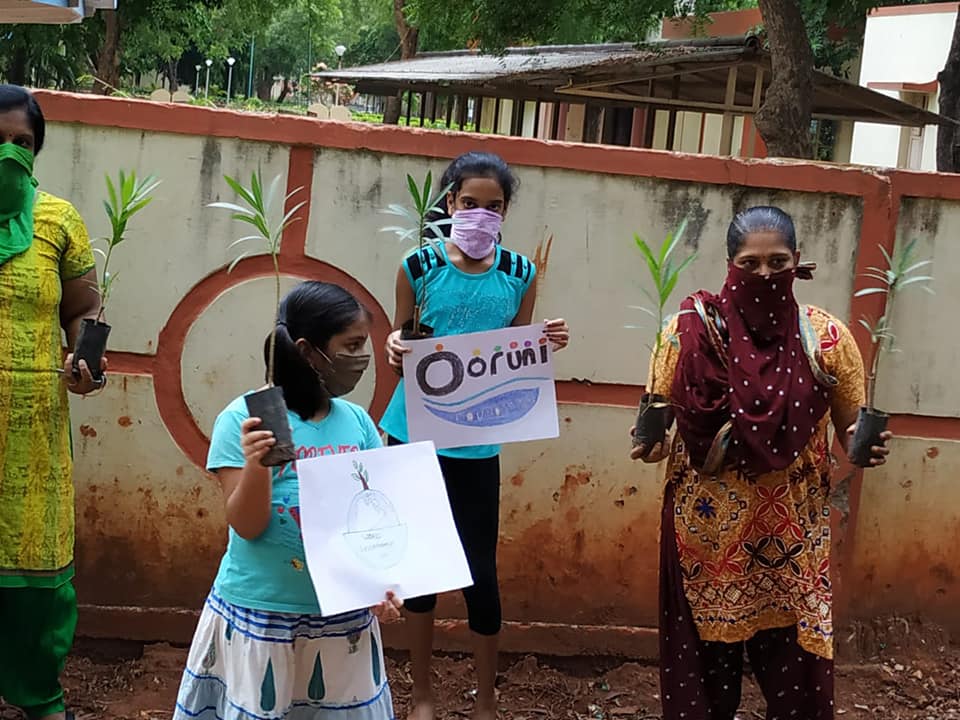 Location
No 18A, First Floor, Patel Cross Street, Nehru Nagar, Chompet, Chennai, India 600044
Contact
More about Ooruni Foundation
0 Lives Impacted
1 Volunteering Events
0 Total Fundraising Campaigns
0 Total Volunteers
Ooruni Foundation is a Non Profit and a Non-Governmental Organization (NGO) which anchors, augments and advocates the pivotal 3Es of human life – Education, Environment and Equal Opportunities for a sustainable community development. Ooruni Foundation is a registered Trust, formed by six members during Chennai floods in 2015. Ooruni has got more than 100 dedicated volunteers and most of them are corporate employees.
Vision
Ooruni foundation choose to bring the spot light to the acclaimed under privileged kids by rebuilding their dreams through making education affordable, under the banner EduFuture India. I Support a Girl is a part of the programme to support the education of underprivileged girl children who are the wards of HIV positive parents.
Mission
Projects
Equal Opportunity Inventiveness-Give their World
"Give Their World" is an initiative to support differently abled and specially abled in building an environment conducive to them and also to provide platforms to portray their talents.
Educational Inventiveness-GramaRajyam
Grama Rajyam is organised on Oct 2nd, Gandhi Jayanthi at different Government schools in and around Chennai, to encourage the talents of the students and engage them in awareness campaigns on Health, personal hygiene and social cleanliness.
Equal Opportunity Inventiveness-Working Women Achiever Awards
Working Women Achiever Awards is a unique of its kind award to recognise and enhance working women on the vantage of Equal Opportunities. It is a premier award to accredit the achievements and progressive contributions of every working woman including transgenders, at all levels in varied industries.
Equal Opportunity Inventiveness-Awake
Ooruni has launched an initiative for Women Empowerment called "AWAKE" which stands for Advocacy to Women's Ability and Knowledge for Empowerment. AWAKE since 2017 is committed to equal opportunities for women.
Educational Inventiveness-I support a Girl (ISAG)
With the ardent support of its donors, Ooruni adopted the education of 100 girls who are the wards of HIV affected parents. ISAG collaborated with CHILD, an NGO in their project of "I Support A Girl", supporting the education of underprivileged girl children.
Educational Inventiveness-EduFutureIndia
EduFutureIndia is an original effort by Ooruni Foundation to give an authenticated platform to all the prospective sponsors who would be interested to fund for the education of the needy students.
Mass Plantation Drive
The enthusiasm and freshness experienced with the pilot project and Time to Grow has led to take a serious initiative of Mass Plantation Drive. In the pursuit of global environmental sustainability, Ooruni Foundation takes pride and joy to associate with Max Life Insurance Co. Ltd., and initiated the Mass Tree Plantation drive.
Equal Opportunity Inventiveness-Freedom Carnival
Freedom Carnival is an ad hoc celebration organised by Ooruni Foundation under the "Give Their World" Project as an annual event for kids with learning disabilities and developmental disabilities including Autism Spectrum Disorder, Down syndrome, Aperger syndrome and Cerebral Palsy.
Equal Opportunity Inventiveness-We are your voice
Co-founded a unique initiative called "We are your Voice" to connect HR professionals and employers with differently able students and are successful in bringing life enhancing opportunities to them. A team of dedicated volunteers channelise the requirements from Government, Non-Government and private sectors, and guide the placements for specially and differently abled adults.
Accounts and Transparency
... Coming soon ...
Report this NGO
Links
Cities
About Us
A

"Grassroots movement"

is a movement that develops organically at a local level, by a group of people who feel strongly enough about an issue to actively campaign to make a difference.

Build version: 1.1.0-06 - live